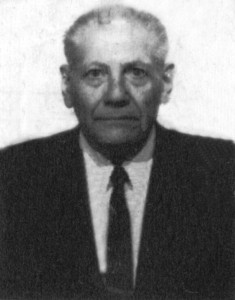 Francesco Paolo Votinelli (Cutinelli)
The poet taylor
(Vasto 1891 +1969)
By Paolo Calvano
He was born 13 October 1891 in a popular family in the area of Saint Maria. His father Domenico, was a communal guard, and his mother Rosalind Giosi, supplemented her husbands meagre stipend producing "guitars for macheroni" (simple pasta making instrument) and sieves for flour. After an adolescence spent in the Castello quarter, next to the Saint Chiara convent, at the age of 16 he decided to embark on a ship to the USA. After arrival in New York he began to work as an apprentice to a taylor and after that he became very friendly with another Vastese taylor of high level Umberto Bottari.
He began to go to the meeting places of the Vastesi  community in New York and there was no feast, ceremony, anniversary to which Frank was not invited and to which he brought his human warmth, his inborn pleasantness, his witty conversation, his "Vastesita`".
For everyone he becomes "lu pelajje" (l'origano), and this nickname stuck all his life just for his natural, spontaneous ability to flavour the evenings and alleviate the weight of the anguish in the heart of migrants.
In one of these evening gatherings between friends was born the masterpiece of Votinelli "Uaste bbelle, terra d'eur…which became in a short time the hymn of the Vastesi spread worldwide.
After a life spent in America, where he had married a Sicilian woman and with whom he had two children, in 1965 pushed by an irresistible desire to see again the land of his birth, in contrast to his family, he decided to return alone in Italy. On the 14th of November 1969 due to some lung complications he died in Vasto and was buried in the local cemetery.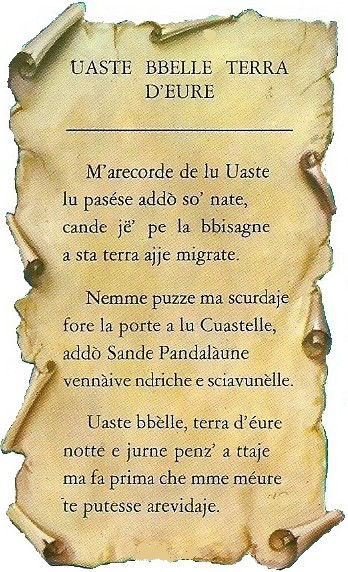 Uaste Bbelle – Vastese Song
Visited 2040 times, 1 Visit today